Architecture graduates and emerging practitioners will be affected as the pandemic takes its toll on our economy. For many people starting out in architecture it will be hard to stay focused on career goals such as working towards registration. But there are things you can (and can't) do to help yourself get through the next weeks and months. Here are some of them: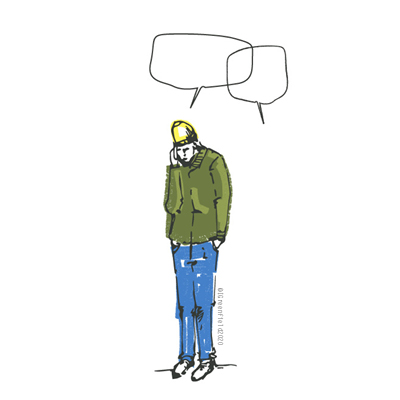 Join a study group.
Connecting with other grads in your area is a great way to stay motivated and keep working towards registration, even though the NZIA_APL Registration Programme is currently on hold. Contact your local Emerge rep to find out what groups have been formed or to connect with other people who want to collaborate. 
Stay positive by staying inspired.
No one graduates with an architecture degree if they don't love architecture. Remind yourself why you started the journey. Read a book. Watch a film. Browse past award winners. Visit your favourite buildings on Google Streetview. Listen to a podcast – here's a list compiled by Dezeen. 
Our profession is full of passionate people and we'll get through this time of uncertainty by remembering why we love architecture and are inspired by the difference it can make to our communities.

Talk to your employer.
Feeling worried about your job? Make contact with your employer or a senior architect you trust and initiate an honest conversation about your position. Is there anything you can do now to improve your standing? Is the firm considering options such as reduced hours? Where will you stand if redundancies are necessary?
If you have any official meetings with your boss regarding your employment status, take notes and keep a record of what was said. 
Lost your job? You may be eligible for the COVID-19 Income Relief Payment to help with living costs. You can apply online for the Income Relief Payment from 8 June 2020. If you need support before this date, Work and Income may be able to help you with a benefit or other payments in the meantime. Details about applying for the payment are available at workandincome.govt.nz. 
Make a plan.
What will you do if your hours and pay reduce? Talk to your bank if you have a mortgage or loan responsibilities. Ask about loan repayment holidays and what lending options are available to get you through a period of hardship.
Contact your landlord if your employment circumstances are changing.
Familiarise yourself with what support might be available from the government. Your employer should know about the Government's Wage Subsidy and Income Relief Payment.
We recommend you check out this article at sorted.co.nz. It gives great advice about how to make a crisis plan, how to avoid taking on more debt and steering clear of scams. 

Know your rights.
Find your contract or get a copy of it and read it thoroughly. What are the provisions for redundancy and dismissal? Research your rights as an employee under New Zealand law – employment.govt.nz is a good place to start.
Don't look at your KiwiSaver!
Unless you want to use your fund to buy a home in the next three years (in which case you may want to switch funds), resist any urges to peek. If you want to be more informed about your financial wellbeing, listen to Mary Holm's regular slot on RNZ. 

Get away from architecture.
Feeling anxious, stressed or overwhelmed? Go for a (socially distanced) walk or take a virtual yoga class. Make an isolation chair, watch reality TV or learn something new – just don't think about architecture for a while. And if that doesn't work, remember, we're always here to help. 
Stay well. 
Feeling stressed, worried, or unable to cope? Try these resources or call the NZIA on +64 9 623 6080. 
Mental Health Foundation
mentalhealth.org.nz 
New Zealand Association of Counsellors /Te Roopu Kaiwhiriwhiri o Aotearoa (NZAC) 
nzac.org.nz
All Right?
allright.org.nz
The Lowdown
thelowdown.co.nz
Out of a job? The Spinoff tells how to protect your mental health when you've lost your job. 
Employment resources
Know your rights
Visit employment.govt.nz to find out about your rights as an employee. 
Note: employers cannot make someone redundant without going through the workplace change process first. 
Financial assistance
Need government help? 
Check what you might get with this Ministry of Social Development tool. 
Been made redundant? 
Find the relevant information on the Work & Income website. 
Want to ask a question? 
Call the Government Helpline on 0800 779 997, 8am to 10pm, 7 days a week.
Need your KiwiSaver funds? 
Find out more about withdrawing from KiwiSaver.
Out of work? Sorted.co.nz suggests 3 steps to take. 
Reduced hours and reduced pay
Find out what the law says about having your hours of work reduced at employment.govt.nz. 
Managing on reduced pay? Use this budgeting tool to help manage your remaining income. Or browse this detailed list of budgeting resources on the Government website.
Moneytalks free helpline
• You can contact MoneyTalks, a free financial helpline for advice and support from trained financial mentors. MoneyTalks can also connect you with services in your community.
• Monday to Friday 8am to 8pm
• Saturday 10am to 2pm
• Freephone: 0800 345 123
• FreeText: 4029
• Email: help@moneytalks.co.nz
Legal help
Get help at your local Community Law Centre.
Call your local Citizen's Advice Bureau if you're not sure where to start.
The NZIA Practice team can't offer legal advice but can point you in the right direction. Call Liz and Marcus on +64 9 623 6080 or email them at practice@nzia.co.nz.