Design, Bitches
Sponsored by GIB®, this year's Festival headliners are talking about their colourful approach to architecture in Auckland, Wellington and Christchurch.
Button Mash by Design, Bitches
Photo by Laure Joliet
Burger Lords, Button Mash, Grill 'Em All are just a few of the eclectic and irreverent – but exceptionally well executed – projects undertaken L.A.'s Design, Bitches.
Eclectic probably doesn't go far enough in describing the work of Design, Bitches (find out about the origins of the name here), the inaugural Festival of Architecture keynote speakers who are, as the L.A Times reported, "redefining SoCal dining style and, in doing so, showing us what it truly is – a mash-up of carefree beach vibe, cozy suburbia, taco stand culture and hipster cred, with a thoughtful nod to neighborhood traditions…They juxtapose the city's hyper development, weather patterns and attitudes into fluid, tactile spaces you can experience."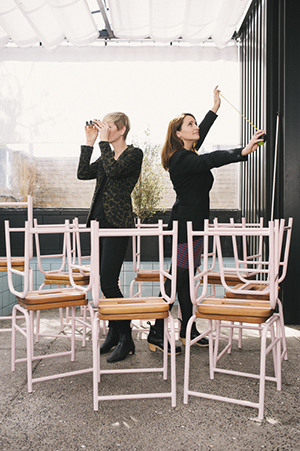 Catherine Johnson and Rebecca Rudolph, who co-founded Design, Bitches in 2010, are both native Californians. Catherine received her MArch from SCI-Arc and her BIARC from the University of Oregon; Rebecca received her MArch from SCI-Arc and a Master of Philosophy from the University of Paris VIII. Based in Los Angeles they collaborate on projects that range in scale from brand identities, commercial spaces and residential and cultural buildings, developing creative solutions that are responsive to location and user experience. Through combinations of graphic design, art, and pop culture and, by experimenting with materials, they provide durable contemporary designs that aren't afraid to wink at history.
"The greatest potential architecture can provide is a stimulating interaction between people and their environment," Catherine and Rebecca have said. "It's more than the buildings, more than the clients: it comes alive with use. Architecture is born out of collaboration, it has attitude, it's fun. We create environments that allow for freedom – of use, of expression, of experimentation."
They also aim to inspire across disciplinary lines and engage the habitable world through "appropriations and innovations". 
"We value the poignant and the ridiculous. We reveal the oddities, the quirks and imperfections that break the monotony of daily life. The future is not narrowly defined, but open-ended. Architecture should be able to be assembled by the user at times – be inspired by high technology but accomplished by low-tech craft. It should be affordable, and remain crafty utilising a range of skilled and unskilled labour. Design, Bitches accept responsibility for our environment and our relationship to society, we strive for the biodegradable."
Recent Design, Bitches work includes Little Octopus in Nashville, Burger Lords, Button Mash (Tofu Balls! Arcade Games!), Grill 'Em All and the American Gonzo Food Corp – all projects reveal the practice's bold vision to make architecture a significant part of daily life.
As Catherine and Rebecca put it: "Each design transforms a collage of influences into architecture that is beautiful and layered with meaning, but also welcoming – the spaces and landscapes where people want to hang out."
Catherine and Rebecca will present free talks in Auckland, Wellington and Christchurch as part of September's Festival of Architecture. Catch them while you can.
Auckland: Monday 11 September, 6.30pm, Mercury Theatre, 9 Mercury Lane. SOLD OUT
Wellington: Wednesday 13 September, 6.30pm, Paramount Theatre, 25 Courtenay Place. Book here
Christchurch: Thursday 14 September, 6.30pm, St Andrews College Chapel. Book here
CPD Points available – please apply as individual activity through RABCPD website.
Thanks to the kind support of GIB® this year's keynote speaker events are free.