Institute of Architects supporting 'Constructive'
10 July 2017
The New Zealand Institute of Architects is happy to announce that it is a partner organisation for Constructive, a forum developed by the Registered Master Builders Association (RMBA) to bring together various areas of the construction industry to discuss sector issues and create a platform to collaboratively resolve those issues.
Constructive is an industry-led effort to enhance collaboration to enable the sector to deliver the step change required to respond to New Zealand's growing building and construction demands. The purpose of Constructive is to bring the entire supply chain together, from finance, land, design and build, and key enabling sectors such as research, training and regulation to identify ways to lift performance in the sector. Collaboration is the enduring theme of Constructive.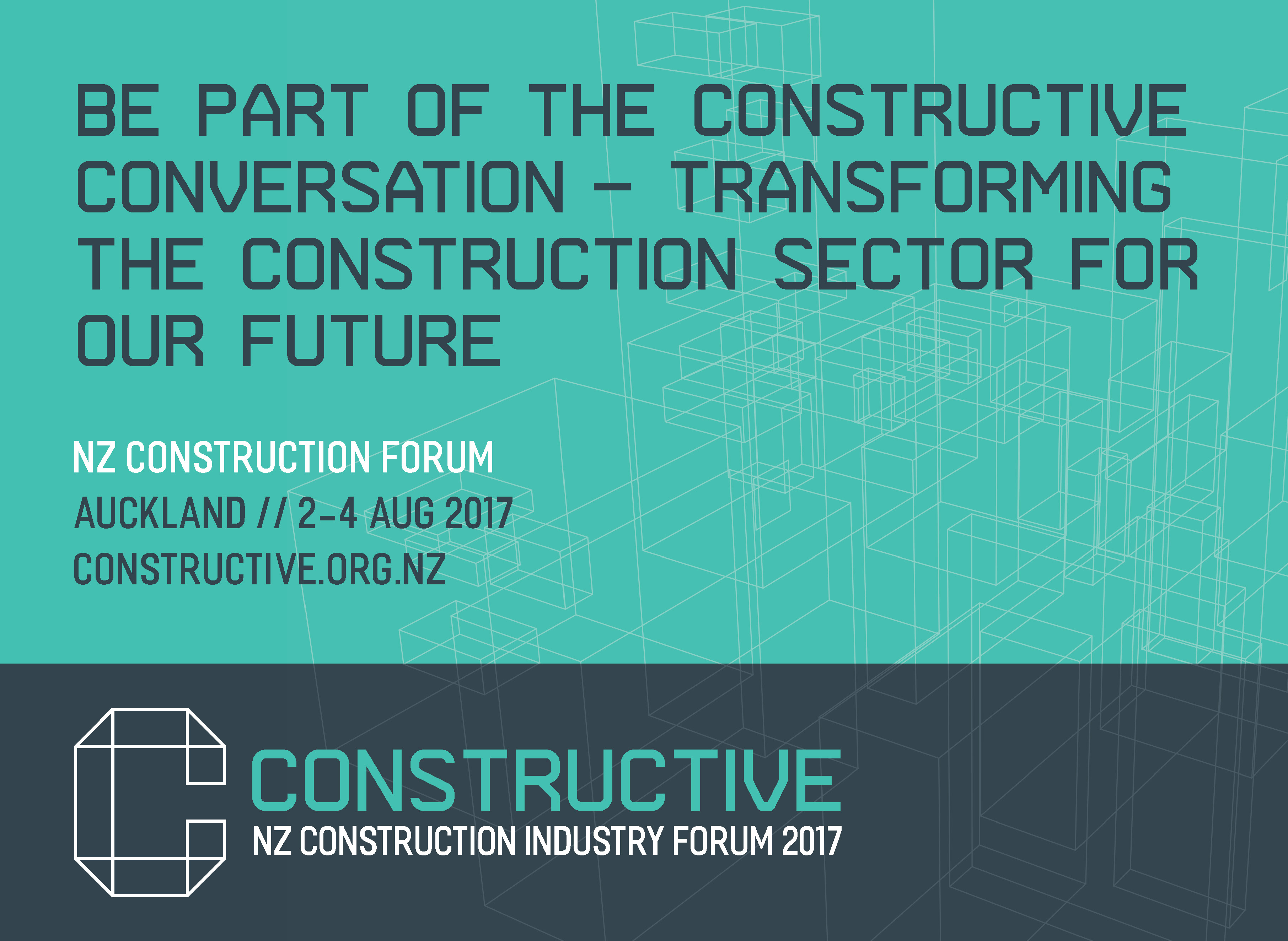 This year's forum will progress on last year's successful conference in Christchurch. Last year's discussions underlined that the sector needs to tackle four key issues: certainty, capacity, quality and timeliness of building. Those discussions also provided a glimpse into what business operating models may emerge in the future.

A big part of this year's forum will be transformation. Getting the sector ready for the winds of change sweeping across the industry globally. Changes such as pre-fabrication, modularisation, automated building techniques, Early Contractor Involvement (ECI) and Business Information Modelling (BIM), are already taking hold in New Zealand.  Key questions are whether the sector is open to change and whether transformation will position the sector to respond meaningfully to New Zealand's current housing supply shortage. Auckland is the case in point, needing 15,000 homes per year for the next 30 years.  

Ultimately solutions must come from the industry working closely with Government. Constructive is a stage for current and future decision makers to promote their housing, building and construction priorities. It provides the ideal opportunity, six weeks out from the election on 23 September, to address an audience which features the leaders from New Zealand's major construction companies, leading architectural, engineering and property development firms. 

Leaders from across the construction sector are invited to attend and participate in Constructive 2017. Delegates will gain knowledge on how to evolve and grow their businesses while meeting a broad cross section of like-minded industry colleagues.

Constructive 2017 will be held in Auckland on 2-4 August 2017. More info here.